White Cane Day - Tech with Apple
---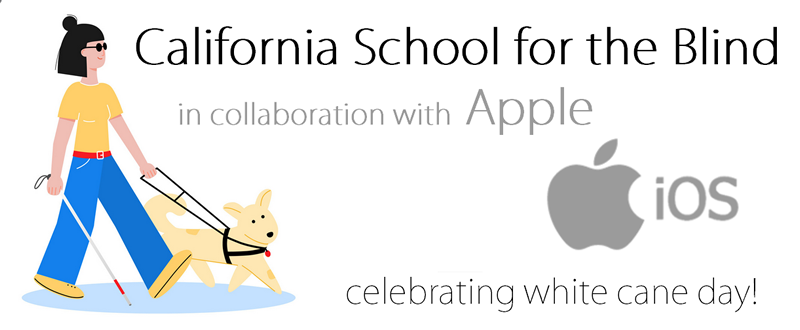 Come join us for a full day of Tech with Apple celebrating White Cane Day!
Date: October 15, 2020
Session 1 for TVI
Time: 12pm -1:45pm
In this session we will share some ways that you can connect with your students and automate processes to spend more time learning. We will discover collaborate note-taking, creating shortcuts for tasks using Siri, and how to help control Mac in remote settings
Session 2 for Students
Time: Group One: 2pm-2:55pm, Group Two: 3pm-3:55pm
In this course, students will learn the basics of coding and begin to identify the skills and effort needed to code their own apps or games with a fun cane activity! Pre-req skills required: Ability to access a Zoom meeting, mute and unmute themselves Materials required: An iOS phone or tablet, white cane
Session 3 for Parents
Time: 4pm-6pm
In this session we will discover ways that iOS devices have built-in tools that allow anybody to use them effectively. We will cover features like VoiceOver, settings for Low Vision, and ways to use speech and dictation. Also we learn how to create shortcuts on iOS to streamline connecting to Zoom meetings to make remote learning more accessible.
Each session is capped at 40 participants, so please be sure to register for the session

you will be attending.
Events
Day of Code
Tuesday, May 9th from 9:00AM-3:00PM
Spring Concert (YouTube)
Wednesday, May 17th at 1:30PM
Thursday, May 18th at 7:00PM
*both concerts take place in the CSB theater and will be streamed live on our YouTube channel
Art Show (in the CSB gym)
Wednesday, May 17th from 10:00AM-4:00PM
Thursday, May 18th from 9:00AM-9:00PM
Soccer Clinic
Thursday, May 18th from 12:00-3:00PM
CSB will be collaborating with BORP (Bay Area Outreach and Recreation Program) and EBUSC (East Bay United Soccer Club) to host a blind soccer clinic on our campus for high school aged students.
CSB Carnival (on CSB campus)
Tuesday, May 23rd from 12:30-3:30PM
Summer Academies
Starting June 12th, 19th, and 26th, 2023