Braille Challenge
A National Program of the Braille Institute
---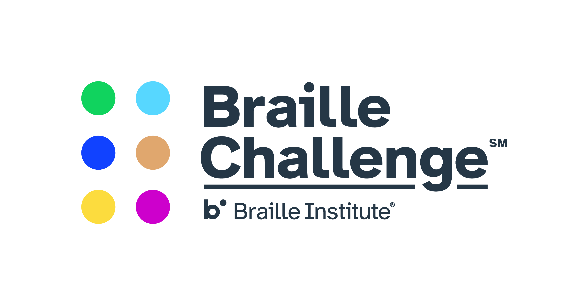 Each year blind and low vision students, families, teachers, and community members from all over northern California gather for a day dedicated to Braille Literacy. This gathering will have blind and low vision youth demonstrate their braille skills in a series of contest ranging from braille reading and comprehension, speed and accuracy, spelling, proofreading, and even tactile graphics. The Challenge begins at 9:00 am, Saturday, March 4th, 2023, at the LightHouse for the Blind and Visually Impaired Headquarters in San Francisco.
In addition to students showing their braille brilliance and competing with their peers, students will get the chance to learn from and meet blind and low vision mentors and role models such as our keynote speaker, Rachel Grider. A past braille challenge regional winner, who now teaches music to blind and low vision students. While students take part in this year's challenge parents will get the chance to learn about many different resources that can help their child along the path of independence from experienced educators and blind and low vision mentors. Topics for parent workshops will include living skills, tech demonstrations, and a to workshop hosted by staff and students dedicated to sharing information and addressing parents concerns about over night and summer camp programs for blind and low vision in our area. In addition to all the lessons and connections that will take place, the brand-new Bop It Button will be making an appearance and there will be a bop off for students with prizes.
What is the Braille Challenge?
The braille challenge is the only academic competition of its kind in North America for students who are blind or visually impaired. Any student grades 1-12 who can read and write braille is eligible to participate.
All students residing in Northern California can compete in the virtual regional challenge. Regional events will be held throughout the United States and Canada. Only the top 50 students with the highest scores will qualify for the Braille Challenge Finals.
When is the Braille Challenge?
Saturday, March 4, 2023 from 8:30am to 4:00pm PST.
Where is the Braille Challenge?
On the 10th floor of the LightHouse for the Blind and Visually Impaired Headquarters:
1155 Market St.
San Francisco, CA 94103
With the LightHouse being so close to Civic Center Bart, public transit tends to be the easiest way to get to our building. However, for our friends who will be driving, I highly recommend you review our directions to Lighthouse San Francisco headquarters

for parking and drop-off recommendations. For those new to visiting the LightHouse, we have many friends that will help you find our space. Throughout the Civic Center Area, the City of San Francisco has a great group of volunteer community ambassadors who are dressed in orange safety vests and can help point you to locations such as the LightHouse. As you get closer to our space our building security will be there to greet you and welcome you into our headquarters.
Celebration and Awards
Upon completion tests will be sent to California School for the Blind for scoring by the Transcribing Mariners. .
Registration

Permission Form: Contestants can sign up for the challenge through the Braille Challenge Permission Form

.
Due date: Friday, February 10, 2023.
Contact: For any questions please contact Angela Martyn, event coordinator, at amartyn@csb-cde.ca.gov or Jamey Gump at jgump@lighthouse-sf.org.
Please take this opportunity to celebrate braille with your students in 2023. Join the Braille Challenge today.
The challenge is sponsored by California School for the Blind, San Francisco Lighthouse, and Vista Center.


Summary of 2023's Braille Challenge Event - Braille Institute

.