Braille Challenge
A National Program of the Braille Institute
---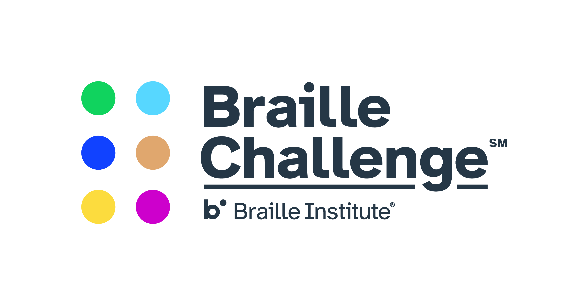 Join the 2021 Braille Challenge of Northern California, virtually. Teachers of Students with Visual Impairments (TVI) have a unique opportunity to proctor their student's Braille Challenge.
What is the Braille Challenge?
The braille challenge is the only academic competition of its kind in North America for students who are blind or visually impaired. Any student grades 1-12 who can read and write braille is eligible to participate.
All students residing in Northern California can compete in the virtual regional challenge. Regional events will be held throughout the United States and Canada. Only the top 50 students with the highest scores will qualify for the Braille Challenge Finals.
When is the Braille Challenge?
Kick-off via Zoom on Friday, January 22, 2021 from 5:30pm to 6:30pm PST.
Contestants coordinate a date and time for their challenge with their TVI/Proctor between Friday, January 22 and Friday February 12, 2021.
The recommended time frame for testing is 2-3 hours to allow for set up, instruction and breaks.

1st-4th grades: Consists of three 25 minute testing sessions.
5th-12th grades: Consists of four 25 minute contests.

Contestants and TVI/Proctors must have access to internet and video conference
Contestants must have access to a brailler (paper will be provided)
An adult member of the household must be present during testing to open the contest box, hand out the contests, collect and organize contests upon completion, and to address any needs of the contestant.
Celebration and Awards
Upon completion tests will be sent to California School for the Blind for scoring by the Transcribing Mariners. An awards celebration will be held via Zoom on Friday, March 12, 2021.
Registration

Permission Form: Please email Christina Tam at ctam@csb-cde.ca.gov for a copy of the form.
Due date: January 8, 2021
Contact: For any questions please contact Angela Martyn, event coordinator, at amartyn@csb-cde.ca.gov or Christina Tam at ctam@csb-cde.ca.gov.
Please take this opportunity to celebrate braille with your students in 2021. Join the Braille Challenge today.
The challenge is sponsored by California School for the Blind, S-F Lighthouse and Vista Center.


Link to the Braille Challenge website - Summary of 2019's Braille Challenge event

.